Have you done the Crunch? No, not the ab exercise, but the fitness trail in Coquitlam that involves climbing 473 stairs followed by an uphill hike that gains 250 metres in 2.2 kilometres. It's a physical challenge that you just might want to add to your September bucket list!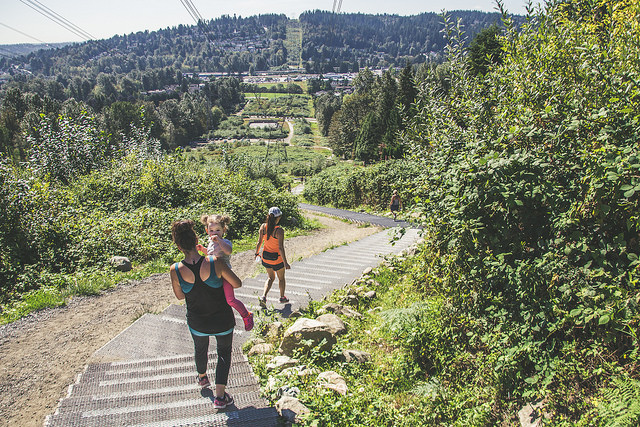 Climb the Coquitlam Crunch
While the Coquitlam Crunch is sometimes referred to as a smaller, urban version of the Grouse Grind, this trail is not as long or as pain-inducing, unless you opt to do stair repeats (it's a thing).
The route follows the power lines up the hill to Westwood Plateau, with the entire loop back down to the base taking 1-1.5 hours to complete. You'll see everyone from gym buffs to preschoolers en route, with even some speedsters racing up the stairs. You'll work up a sweat and be rewarded with pretty great views from the top.
Unlike the Grind's forested setting, the Crunch cuts through largely open terrain that's surrounded by residential homes. The trail is easily accessed by road (free parking on Lansdowne Drive) or transit (by bus from Coquitlam Central SkyTrain station).
This is just one of the many options to take your workout outdoors this month. From hiking challenges to a colour run, September is all about fun activities we can do in the fresh air. Here are a few to try:
Continue reading »
Disclosure:
Sponsored Post